Yes fans "Is California Part of America" is back, and though it has been some time since I wrote anything of substance, the times have changed and Brad is getting back to his roots. Mummrat has been Mummdelayed so I am going to pick up the slack with back to basics blogging. We are about satisfaction at downinthewell.com.
This blog is about anthropology and storytelling at its roots and I will fill you in on favorite anthropological experiment I have been running; watching Fox News 11's "Good Day LA".
News in the greater Los Angeles is different from your average Midwestern City's local newscast. A man literally named "Johnny Mountain" for instance covers weather. He is an older white haired gent who is usually back dropped against, you guessed it, a mountain.
Now to the best of my web searching his real name is John Mountain, but let's face it, even if he did not change his name to Johnny Mountain, the only reason he has work is because idiots in California trust a man with an action hero name. I mean weather reporting is not a hard job, especially in Los Angeles. How difficult is it to say "It's going to be 72 with no rain today, oh and all those mountains that surround our town are on fire"?
Good Day LA has its original run from 7 to 10am, which is appropriate for a fluff news coffee show. I get that, but the real greatness comes in 12:30 to 1:00pm showing where host Jillian Barberie really gives you the softest form of news possible. Most men will recognize Mrs. Barberie from her long stint on Fox NFL Pregame on Sundays where she trades wit with the likes of Terry Bradshaw and Jimmy Johnson. I am quite sure that there are women who know quite a bit about football, but Mrs. Barbarie gets to be on the weekly show because she has big tits. Nothing says football like a big pair of fake breasts; talk about a pair of Johnny Mountains, eh?
Whenever I work in the office in Westwood my boss likes to have FOXnews11 on so the office can guess the answers to "Are You Smarter Than A fifth Grader" playing at 1 to 2pm. So I am always treated to "Good Day LA Today" at 12:30.
Here is an example of the hard hitting news segments brought to you by "Good Day LA today"
Lingerie football is such a great sport because of the Women's ability to not be your regular sort of pretty girl. They are champions of the gridiron, they aren't just eye candy; they are fighters for women's rights. They buck the average stereotype of what a woman should be, Susan B. Anthony would be proud.
Wait, they are actually just whores who play football in their underwear. Jillian Barberie would be one of these Women if the sport had invented in a year prior. Like I said if you want to pair women with football the women in question need a nice pair of Johnny Mountains. There is no Rachel Maddow in football, sorry girls.
Fluff news pieces like these are nothing special to California. Good morning Chicago would undoubtedly have the same level of news content, the difference is that the worlds filthiest white trash hooker. I mean I don't want to besmirch the name of Jillian Barbarie, but lets face it, she missed being a porn star by the slimmest of margins. I remember spending a new years eve Chicago a few years back that happened to fall on a Saturday. The next day, being a Sunday during football season, Mrs. Barbarie showed up to give JB, Howie and the boy's the days weather forecasts around the city. She looked like she had been passed around an opium den and sounded like a wounded badger. I mean she was fucked up, not that half sort of hangover; she was still drunk and wiping the cocaine from her nose.
I mean Jillian Barbarie used to be on a failed sitcom entitled "Good Morning Miami" where she played some chain-smoking whore who was a ridiculous choice for a newscaster. She got to play herself as a bad newscaster, and someone in the greater LA area saw that and said, "Hey lets make that same show only for real this time".
I mean you couldn't have this crazy skank on Good morning Chicago right? My mother and sister wouldn't want to spend their morning watching some plastic Barbie doll? This trashy broad would alienate women anywhere else in the country but LA. She has been on national television, but as something geared towards the men, such as myself, who enjoy the irreverent antics of the FOXnflSunday crew. She works in LA because the housewives who are at home watching this drivel want and try to look like her.
But the best, yet most tragic thing about Good Day LA is the older lady named Lisa Ashley. She is hanging on to the show by its short hairs for sure. At an estimated 40 years old she is ancient for LA area news. No one wants to watch an old (for LA) hag give the news, but Good Day LA has been kind enough to let her sell products for teen skin care. This shit cannot be made up.
In other news, thats not about news that isnt news, Ben and I have continued to prove that we are meat eating American white men. Not only did we roll up our sleeves and replace the radiator is his saab, but we climbed a mountain and moved out of our apartment in one day. We are not so jaded (or have the money) to get a mover or a u-haul, take our vehicle in to be serviced, or act above sleeping on a couch.
We do what Men do, we drink, spend two days fixing a car we have no idea how to fix, move all our shit ourselves and climb mountains at dawn.
Here are some pictures of recent adventures.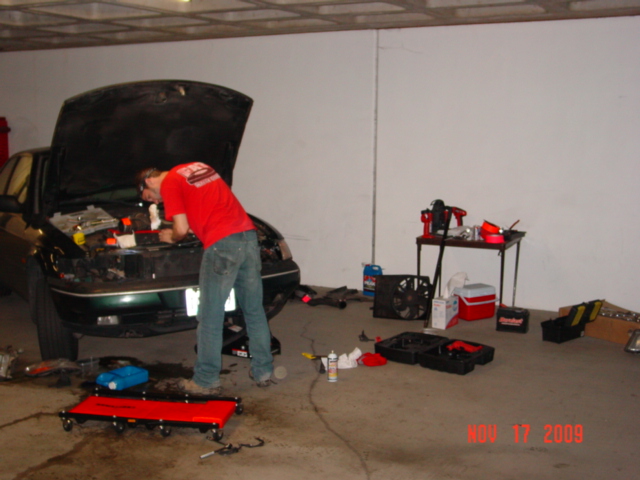 This is a picture of Ben trying to fix an importated car. All the tools on the table are mine, because I a goddamn man, and 90 percent of the work was done by Ben, because it's his goddamn car. The thing was a goddamn jungle to work through but we made . . . even though his car tops out at 55mph.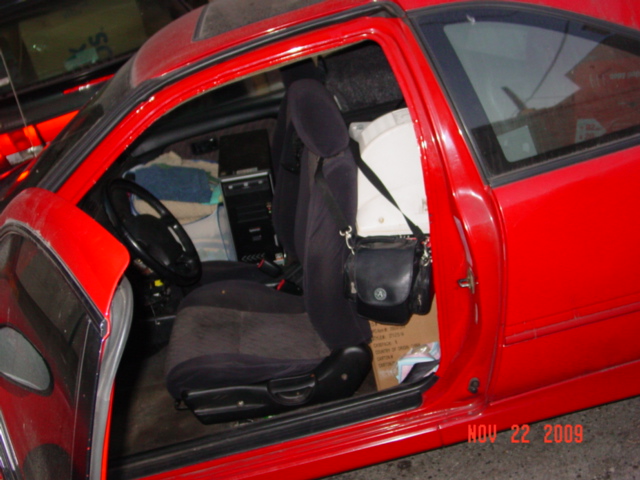 This is my car, packed like a goddamn American should pack it (even though it is a Nissan, but American cars are garbage).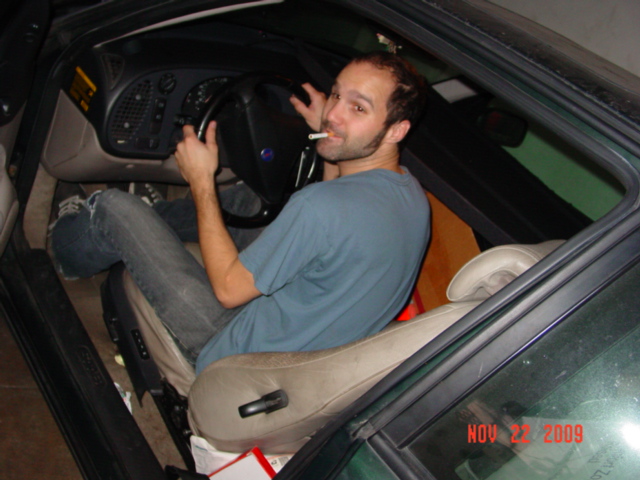 This is Ben in "cockpit mode" smoking like a goddamn American. Take notes all you California Sallies.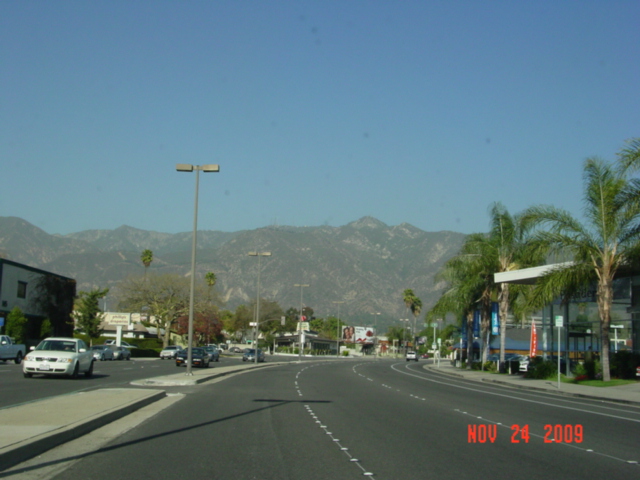 And in the background of this pick is "Echo Mountain", the very same mountain we climbed at 1:30 in the morning a couple of weeks ago.
***Editors note, this may or may not be Echo Mountain, Brad Does Not really know, but was by mountains in pasedena this morning and assumed all mountains are the same anyway.
Well that is it for the blog downinthewellers, will be back soon with an update of returning to Illinois for the holidays.
Adios